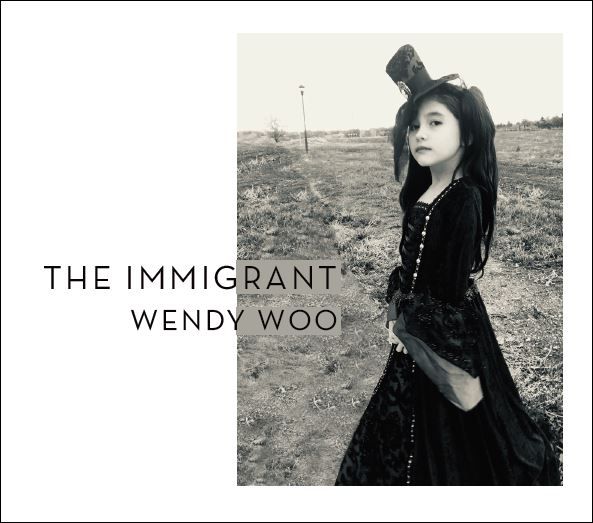 Wendy Woo hasn't put out a solo album since Angels Laughing in 2005. It was a fan favorite then and 
continues to be her most requested album. Now, 14 years later, is the follow-up solo album, The 
Immigrant. Pure Woo. Sweet, introspective, rueful. Songs about family, change, growing older. This is the 
memory album, the coffeehouse album, the wine with old friends album, the father passing album. This is 
her life and the lives of those around her. 

Being released as a single, "The Weather" is a jazzy, melancholy, guitar-infused reflection about living in 
somber times. 

"Plane to China" is Woo's ode to her Filipino immigrant father, Bataan Faigao, and to a childhood spent 
among the Beat poets who frequented the Faigao home in Boulder. Allen Ginsberg hung out in the hot 
tub, took photos around the kitchen table, and dedicated a poem to Bataan. Gregory Corso taught her to 
play poker. Ken Kesey welcomed the family to his Oregon farm. The Faigaos, tai chi teachers who were 
founding faculty at Naropa, were part of Boulder's history and were widely mourned when they passed. 

"This Little Town," co-written with her husband Charles Snyder (who grew up in Loveland where they live 
now) captures small town life. Drinking, cruising, parties at the lake, dreams of what could be. 

Vic's, the neighborhood coffeehouse near her family home, inspired another song. Like "Plane to China," 
"Vic's Coffee" features a parade of Boulder types — both locals and arrivals from other places — who 
wove themselves into Woo's life. Similarly, "Birthday Phone Call" also connects Woo with old Boulder 
friends, ones who have seen their share of hard times. 

"Keep on Livin'" harkens back to Woo's earliest recordings. It's an instrumental with Woo on guitar and 
Hannah Alkire (Acoustic Eidolon) on cello. They recorded and performed together as young Boulder 
musicians. Now they both live in Northern Colorado: their lives evolving and yet coming full circle. 
The one song on the album not written by Woo is "Landslide," which is now included in her live show 
repertoire. Woo's rich voice lends depth to this Stevie Nicks classic. 

Wendy Woo has been a mainstay in the Colorado music scene for over 20 years. She has lived and 
played in Boulder, then Denver, and now Northern Colorado and has been named best singer/songwriter 
in each location (plus a slew of other recognitions). Westword just did a feature about her in honor of the 
Westword Music Showcase's 25th anniversary celebration. She's one of the few performers who has 
earned a spot in the Music Showcase Hall of Fame. While Woo has toured nationally (playing in famed 
venues including the Bluebird Cafe in Nashville, the Bitter End in NYC, the Hotel Cafe in LA, and 
Sweetwater in Mill Valley), she and Colorado are inseparable.
 
Please submit inquiries to: Charles Snyder 
charles@wendywoo.com 
970.581.7623