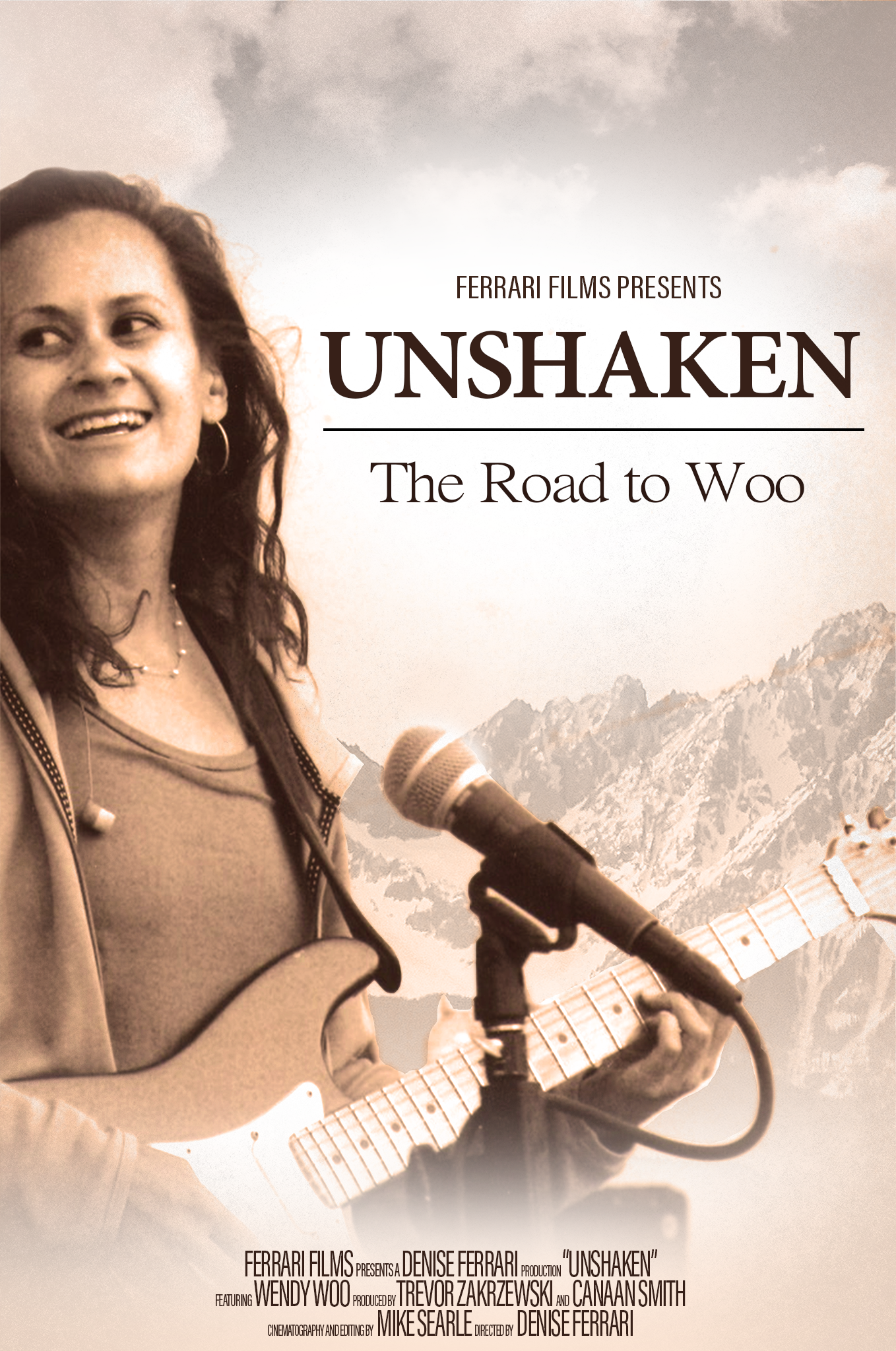 Stargazers, May 17: Debut Showing of Wendy Woo Documentary
Followed by Wendy Woo Band Live Performance 
Ferrari Films and the Wendy Woo Band will be debuting the documentary, Unshaken: The Road to Woo, May 17 at Stargazers, followed by a live performance by the band. 
For more than 25 years, Woo has been one of Colorado's most popular and beloved singer/songwriter/musicians. The film traces her musical history from learning to play a few chords of Paul McCartney's "Blackbird" to working and playing at Boulder's famed Fox Theatre to being courted by Nashville publishers who wanted to turn her into a songwriting machine. 
Over the course of her career, she has learned to juggle performing, the music business, relationships, and having three children. 
The latter was what attracted Ferrari Films to her story. Denise Ferrari, the owner of Ferrari Films, attended an outdoor concert of Woo's in the summer of 2018, where Woo had brought along her six-year-old daughter. Notes Ferrari, "As a business professional and mother, I was curious about Wendy's ability to balance parenting and career, and about the personal and musical influences that had made Wendy into the outstanding mom and artist that she is." 
A unique twist to Woo's career is that even though Woo and her ex-husband (whom she met when she needed a drummer) are now married to other people, they continue to play in the band together. The marriage didn't survive, but the band did. 
Ferrari Films was founded in 1996 and has been producing award-winning multimedia products ever since. Since 2017, the company has produced three feature length documentaries including Song of Songs: The Journey of a Consecrated Virgin, The American Opioid Crisis: Talbot Goes Purple, andUnshaken: The Road to Woo. 
Wendy Woo has been a mainstay in the Colorado music scene for over 20 years. She has lived and played in Boulder, then Denver, and now Northern Colorado and has been named best singer/songwriter in each location (plus a slew of other recognitions). Westword just did a feature about her in honor of the Westword Music Showcase's 25th anniversary celebration. She's one of the few performers who has earned a spot in the Music Showcase Hall of Fame. While Woo has toured nationally (playing in famed venues including the Bluebird Cafe in Nashville, the Bitter End in NYC, the Hotel Cafe in LA, and Sweetwater in Mill Valley), she and Colorado are inseparable. 
Friday, May 17, 2019 
Stargazers Theatre 
10 S. Parkside Drive 
Colorado Springs CO 80910 
719-476-2200 
All Ages 
$12 
Doors at 7 PM, Show at 8 PM 
http://www.stargazerstheatre.com/event/4fc0ebc444aabc289d8330189bbe74b8 
For more information, contact: 
Charles Snyder 
charles@wendywoo.com 
970-581-7623